Moving furniture interstate in Australia can be a costly and stressful experience, but there are ways to minimize expenses without sacrificing quality. In this blog, we have mentioned the top 17 cheapest ways to move furniture interstate in Australia. From checking and packing to moving and unpacking, you can follow some of these ideas to cut the overall cost.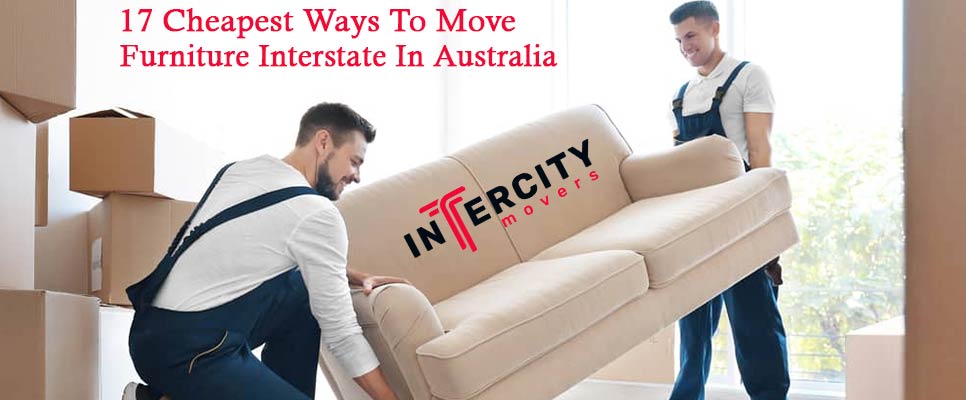 Here are 17 of the cheapest ways to move your furniture interstate in Australia:
1. Prepare While Moving Interstate
Preparing for an interstate move requires careful planning and organization to ensure a smooth and stress-free experience. Start by researching and comparing moving companies to find one that fits your budget and offers the services you need. Plan ahead and make sure to start preparing well in advance.
2. Get Quotes Before moving
Getting an estimate on the time required for home removalists to complete a job is crucial for planning and budgeting the moving process. It helps you understand the time frame involved in the move and allocate resources accordingly. Removalists can provide a rough estimate based on the size of your household and the distance of the move. However, it is always advisable to get a detailed quote from them to understand the exact time required and any additional costs involved. It is also important to communicate any specific requirements you may have so that the removalists can factor them in when providing you with an estimate.
3. Choose A Trustable Removalist Company
Choosing a trustworthy removalist company is essential to ensure a stress-free and successful move. Start by researching different companies and reading reviews from past customers. Look for companies with a good reputation, a clear pricing policy, and proper insurance coverage. Make sure to also verify their licensing and certification. It is advisable to get quotes from a few companies to compare and make an informed decision. A trustworthy removalist company should be able to provide a seamless and efficient moving experience.
4. It Is Important To Create An Inventory
Creating an inventory before moving is a crucial step in the moving process. It helps you keep track of all your belongings and ensures nothing gets lost or left behind. Start by making a list of all the items in each room, including large furniture pieces and smaller items like kitchen utensils. Take photos or videos of your items, especially valuable ones, to have a visual record. It is important to take the time to create a thorough and accurate inventory before the move.
5. Determine which pieces of furniture require relocation
Determining which pieces of furniture require relocation is an important step in the moving process. It helps you prioritize and plan the move more effectively. For interstate furniture removal, take a look at each room in your home and decide which furniture pieces you need to take with you and which ones can be left behind. Consider the size, weight, and fragility of each item, as well as its sentimental value. This will also help you determine how much space you will need in your new home and make arrangements accordingly.
6. Do Not Carry Unwanted Items
Removing unwanted items before moving can be a great opportunity to declutter and simplify your life. Consider getting rid of items that are broken, outdated, or that you haven't used in a long time. This will reduce the number of things you need to pack and move, saving you time and money. You can donate items in good condition to charity, sell them, or dispose of them properly. Additionally, getting rid of excess belongings can also help create a fresh start in your new home.
7. Get Cheap And Best Packing Materials
Getting cheap and high-quality packing materials is essential for a successful move. Start by researching different options and comparing prices. You can also ask friends and family if they have any extra moving boxes or packing materials. Online retailers and moving supply stores offer a variety of affordable packing materials, but make sure to read reviews and compare prices before making a purchase.
8. Creating A Packing Timeline Is Important
Creating a packing timeline is a crucial step in the moving process. It helps you stay organized and ensures you have enough time to properly pack your belongings. Start by setting a deadline for when you need to be completely packed and ready to move. A packing and unpacking timeline can help you stay on track and avoid the stress and last-minute rush that often comes with moving.
9. Pack The Items As Soon As Possible
Packing the items as soon as possible is important to ensure a successful and stress-free move. The earlier you start, the more time you have to properly pack your belongings, avoid last-minute rushes and reduce the risk of damage. Start with items that you don't use frequently and gradually move on to more essential items. Pack items carefully and label each box with its contents and the room it belongs in. This will make it easier to find items when you need them and streamline the unpacking process.
10. Get Help For Quick Moving
Getting as much help as possible before moving can make the process much easier and less stressful. Consider enlisting the help of friends, family, or professional movers to assist with packing, lifting heavy items, and loading and unloading the truck.
11. Pack Your Essential Box
The essential box contains all the necessary and delicate items. Make sure you pack your essential box first and keep it on the safer side. You must prepare an individual box for everyone in your family.
12. Avoid Prohibited Items
Avoiding prohibited items while moving is important to ensure a smooth and legal relocation. Some items, such as hazardous materials, firearms, and perishable goods, are not allowed to be transported by removalist companies due to safety and legal regulations.
13. Take Care Of The Safety
This is very important while moving. You need to keep your things safe and also keep yourself safe while shifting the items to your new place.
14. Label The Items
Labelling the items will help you to be assured that you won't forget any items behind and it will also help you to find out the items easily while unloading and unpacking.
15. Saving Money On The Move
For saving your money while moving, you need to take care of certain things like:
Hire cheap and best movers
Reduce the items you are moving.
Pack your things by yourself.
16. Keep Everything Ready At Your New Place
Whenever you move to a new place you must change the utilities and keep everything ready. You need to check the lights, water and all other things so that you can move easily.
17. Pack Your Valuables Safely
There are many things that might be important to you, make sure that you pack these things separately and keep them with you.
Hire Professionals
If you are in search of the top Brisbane to Canberra Removalists, you must hire the professionals at Inter City Movers. We offer cheap and the best removalist services all over Australia. You can get the best plan for your move with us or by following the above 17 ideas.