Moving to a new home can be an exciting experience, but it can also be overwhelming and stressful. With so many tasks to remember and things to keep track of, it's easy to feel overwhelmed. To help make your move as stress-free as possible, we've created a comprehensive house-moving checklist to keep you on track.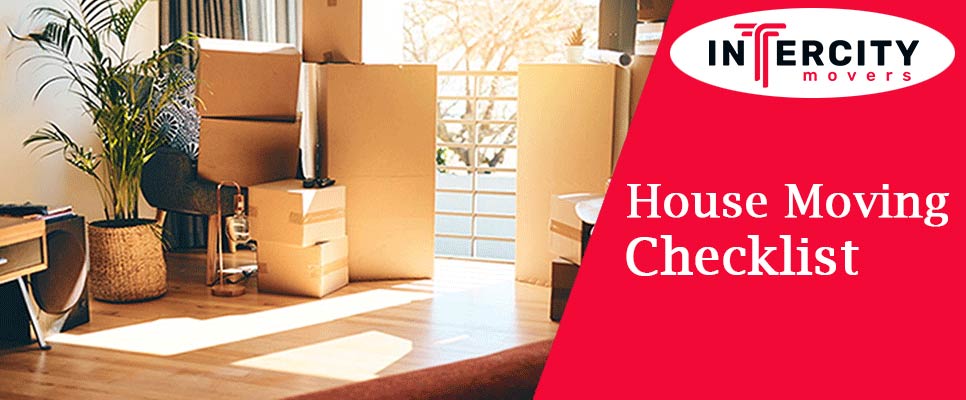 8-12 Weeks Before Moving
Research moving companies and compare quotes.
Decide whether you want to hire a professional mover or rent a truck and move.
If you're hiring a moving company, book them as soon as possible to ensure availability.
Start decluttering and donate or sell items you no longer need.
Create a budget for your move, including the cost of the move itself, as well as any new furniture or household items you may need.
6-8 Weeks Before Moving
Notify your utility companies and other service providers of your move and schedule disconnection and reconnection at your new home.
Request time off work for the move if necessary.
Request a mail forwarding service from your post office.
Start packing non-essential items and items you won't need in the next few weeks.
4-6 Weeks Before Moving
Begin making arrangements for the care of pets or plants during the move.
Arrange for your children's school records to be transferred.
Notify your insurance company of your move and make changes to your policy as necessary.
Start notifying friends and family of your move and provide them with your new address.
2-4 Weeks Before Moving
Start labelling boxes with the room they belong in and what's inside.
Arrange for disconnection and reconnection of appliances, if necessary.
Start making arrangements for the movers to park at your current home and your new home.
1-2 Weeks Before Moving
Pack up the rest of your belongings and continue labelling boxes.
Arrange for transportation of large items such as furniture.
Dispose of any items that can't be moved, such as flammable or hazardous materials.
Moving Day
Supervise the movers and ensure that everything is loaded safely onto the truck.
Double-check that all boxes and items are labelled and loaded onto the truck.
Check your old home to make sure you haven't left anything behind.
Drive to your new home and supervise the unloading of the truck.
After Moving
Unpack your belongings and start organizing your new home.
Notify the post office of your new address.
Register to vote in your new area if necessary.
Start making arrangements for any necessary home improvements.
By following this comprehensive interstate house moving checklist, you can ensure that your move goes as smoothly and stress-free as possible. Remember to take things one step at a time and don't be afraid to ask for help from friends and family.
How To Hire Professionals For Moving?
Interstate Furniture Moving can be a complex and time-consuming process, which is why many people choose to hire professionals to help with the process. If you're considering hiring professionals for your move, here's what you need to know.
Research Moving Companies: Start by researching moving companies in your area and compare their services, prices, and reputation. Read online reviews and check the company's Better Business Bureau rating to ensure they have a good reputation.
Get Quotes: Contact several moving companies and request quotes for the services you need. Be sure to provide the companies with accurate information about the size of your home and the number of items you need to move.
Ask Questions: When you receive quotes, ask the moving companies any questions you may have. Find out if the company is insured and if they have any experience moving items like large furniture or delicate items.
Check Licenses and Insurance: Make sure the moving company you're considering is licensed and insured. You can check the company's licensing information with the Federal Motor Carrier Safety Administration or your state's department of transportation.
Schedule an In-Home Estimate: Before you hire a moving company, schedule an in-home estimate. This allows the company to see your home and assess the number of items you need to move, and give you a more accurate quote.
Read the Contract Carefully: Once you've chosen a moving company, read the contract carefully. Make sure you understand what services are included and what the company's policy is on damage or loss of items during the move.
Prepare Your Home: Before the movers arrive, prepare your home by making sure all items are packed and ready to go. Label moving boxes clearly and make a list of items that require special handling.
By following these steps, you can ensure you hire a reputable and reliable moving company for your move. Hiring professionals for your move can help make the process much smoother and stress-free, allowing you to focus on settling into your new home.
Get Professional Help
Hiring professionals at Inter City Movers for your move from Adelaide to Melbourne will ensure you receive the best moving services available. With years of experience and a commitment to customer satisfaction, we have established a reputation as a trusted and reliable moving company in Australia. The company's team of experienced movers will handle your belongings with care and ensure a stress-free move. Additionally, Inter City Movers offers competitive pricing and a range of services to meet your specific needs. From packing and loading to transportation and unloading, we have you covered. Choose the best for your next move and hire them for the best moving services in Australia.